WE HELP
Job at McDonald's in the western region of Hungary
We are looking for restaurant staff
Secure job opportunity in our McDonald's restaurants in the western part of Hungary, in 4 different locations.
Declared employment, guaranteed salary, correct working conditions and help with accomodation.
Optional locations: Vas county: Szombathely McDonald's, Győr-Moson-Sopron county: Sopron McDonald's, Zala county: Keszthely McDonald's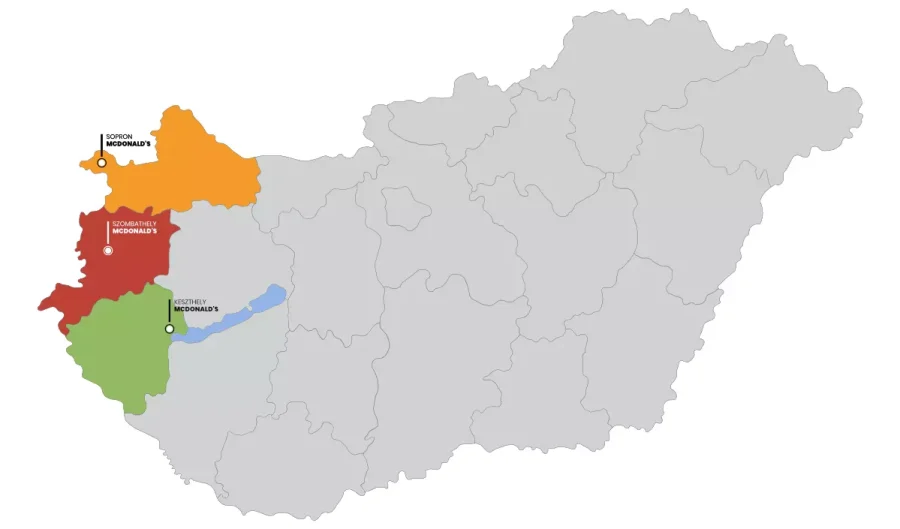 McDonald's career as a crew member in the restaurant, full-time or part-time work with flexible scheduling and secure living. We help you and your family! Secure and calculable job, varied and flexible working hours. McDonald's job in the western region of Hungary with correct waging.
Apply now!
Starting gross salary: 295.000 - 450.000 Ft/month
Basic gross wage for day-shift from 295.000 Ft, with 30% bonus for afternoon shift (for working between 6 pm and 6 am) your raised salary is 450.000 Ft – calculated with the entire month, that is with 174 worked hours per month.
Receivable net earnings*: from 224.000 Ft
*Calculated with entire month, in day-shift, without payed holidays, any tax or other discounts in Sopron. Waging varies from restaurant to restaurant. Detailed information during the hiring. 
SECURE JOB AT MCDONALD'S!
Your basic gross salary is from 338.200 Ft, with the increased 30% bonus for afternoon shift in Sopron your raised wage will be 450.000 Ft – calculated with entire month, that is with 174 working hours per month
As further benefit, you receive SZÉP card that you can pay also in the food stores with
20% shopping discount in almost all McDonald's
Bonus opportunities are also awaiting you in order to earn more money
TASKS
Tasks in the kitchen, where you prepare the ordered products
Take orders and serve our guests at the cash desk
Help your colleagues' work at the cleaning of the restaurant and by the maintenance of its order
WHAT CAN YOU EXPECT

AS A CREW MEMBER?
100% declared, secure job
Accurate payment
Help with the accomodation
You get attention and support
Long-term, secure living
Correct wage, you receive SZÉP card and after an adequate performance you can get other bonuses
Stable, trustworthy workplace at an international brand.
APPLY NOW!
If you would like to join our constantly growing, successful team, that offers you a long-term, secure job, send us now your application!
Fill in the form and click on the button Send 
Have you stopped? Do you have any question? We help you!
Send an email to the address felvetel@clear97.hu!